Winery Hospitality and Relationship Sales Training
What if your Hospitality Team created a lasting customer with every pour? How many visitors leave your winery with great memories, AND bottles of your wine?
How many recommend your tasting room experience to their friends and colleagues?
How many join your wine club on-the-spot?
Our Winery Hospitality & Relationship Sales Training Workshop will improve the tasting room experience of every one of your guests, while dramatically improving your bottom line. We teach your hospitality staff to be gracious hosts and hostesses, and to sell more wine in a way that will turn visitors into lifetime customers.
By investing in your Winery Hospitality and Tasting Room staff, you ensure more profitable, sustainable wine sales and customer loyalty.
---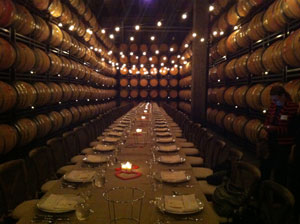 The Winery Hospitality & Relationship Sales Training Workshop builds these sales and people skills:
Creating a pleasurable experience for tasting room guests through improved, engaging
attitudes & behavior
Establishing customer rapport & achieving a high level of comfort for the visitor
Asking the right questions and engaging tasting room guests in conversation
Reading verbal and non-verbal wine buying signals
Closing wine sales and wine club memberships, amiably
Building a small wine purchase into a larger one, for which the buyer thanks you!
Translating the "facts" about your wines into reasons to buy
Calming complaints & handling inquiries about what you charge for wine tasting
Mastering the tasting room training tips gained in the workshop
Changing casual wine tasters into lasting relationships and club members
Let us show you how to keep our training fresh and alive with our "Train The Trainer" sessions
Register for this class now!
View and/or register for one of these upcoming classes. Includes lunch. And optional mystery shopping is available in advance of the class to further customize the training to your hospitality team. Ask for details. Enroll now.
View Class Schedule